Frescos, murals, paintings, illusionistic painting (trompe l'oeil), street art, graffiti… – they are called by many names. Beautiful paintings made directly on the walls can be a delightful and original decoration. They look great in business places as well as in private homes, on elevations and indoor.
We do all kinds of paintings – decorative paintings in restaurants and business premises, children's murals in playrooms and kindergartens, large-format artistic and advertising murals, car parking signage, paintings in rooms and paintings on canvas.

Our advantages are:
RELIABILITY AND EXPERIENCE
Private homes and houses
Beautiful wall paintings will make your home an even more special place to which you are happy to come back. We can paint anything: fairy-tale characters in a child's room, a landscape in the living room, an abstract picture in the bedroom. The façade can also be enlivened with a unique painting, which neighbors will envy.
Business places
Distinguish your business place with a unique painting – it will attract attention and new customers, increasing loyalty of the existing ones. We can implement any type of project for you (painted signs, kids murals, restaurant decorations, theme settings, car park signage etc).
Artistic and advertising murals
Murals, that is large-format paintings painted on external walls, sometimes called street-art, are becoming more and more popular. We make artistic and advertising murals. We are a large and experienced team, what enables us execute large orders efficiently and on time.
When the client does not have a ready design, we offer our help. The first stage is to determine the nature and theme of the graphics. Next, we prepare preliminary graphic designs
free of charge
and we make visualizations – that is we put a graphic design on a wall picture in order to show the desired effect. At this stage we are able to determine the cost of painting.
We often paint based on pictures or graphics from the internet or the customer.
The right graphic design is half the success, so it sometimes happens that determining the design takes more time than painting itself. Of course, during the painting, changes are still possible and often we are able to achieve the effect on the wall better than on the project. Sometimes the design is defined in a general way, as an approximate pattern, especially when the graphics are simple or the exact representation is not required.
If you need individually designed graphics, tailored to specific needs, such a design "from scratch" can also be made by us, but usually for a fee.
Wall painting usually starts with a sketch. If high accuracy is required to reflect the design, we use a projector or stencils. Sometimes painting starts with only the general concept of graphics – then the creative process takes place parallel to the creation of the work.
We paint with the highest quality paints, usually acrylic (soluble in water, odor-free, ecological). Most often, we paint with brushes and rollers, but we also use an airbrush or sprays.
Depending on the design painting takes from days to a few weeks. On request the painting is coated with a clear varnish or anti-graffiti coating.
We are a group of experienced artists, which is why we are able to efficiently execute even very large orders. We operate mainly in Poland but we have also significant international experience in many EU countries and even beyond.
We give a two-year warranty for all our work!
Often customers start the conversation with this question. The answer is not simple, because the price is influenced by many factors: graphic detail, height of wall, location etc. When the design is not set, and the budget has a specific limitation, we can propose a design to fit within the given cost.
The following summary may help in the general cost estimate. See also our works in the "our works" section – we have given actual costs at some of them.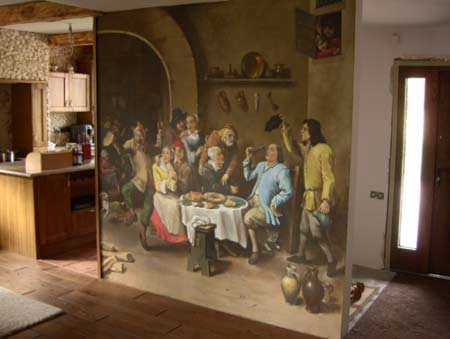 Premium
Detailed paintings, usually realistic style and small in size – they impress with the amount of detail and the level of refinement.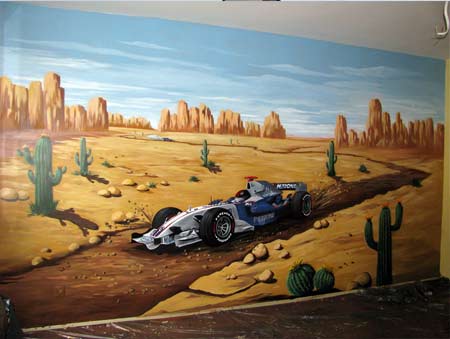 Standard
Colorful and beautiful wall paintings, detailed, large and each is unique, but most are located in this price range.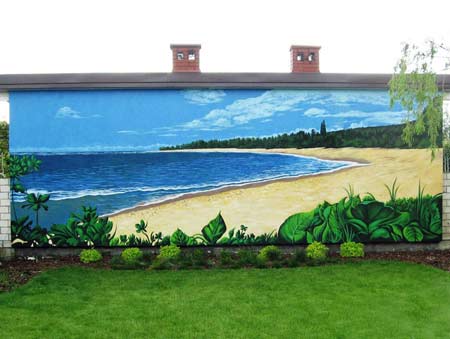 Simple and inexpensive
Sometimes simple graphics are enough to impress audiences. Of course, simple paintings are carefully refined as well as more complicated ones, only that they are less labor-intensive.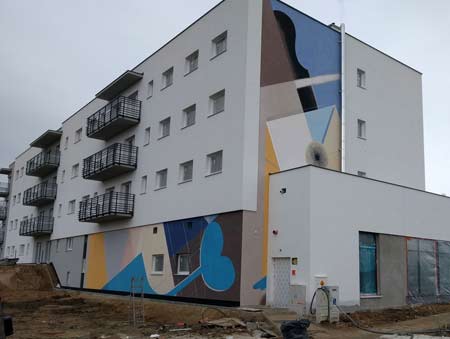 Large surfaces and murals
Large-surface murals often have little detail, so the unit price per m2 can be quite low.
Wish to find out more? Contact us!