artistic and commercial murals
commercial centers and parking lots
playgrounds, restaurants, service spaces
We do huge projects (large-scale murals) as well as small ones (private bedrooms), both handpainted street murals and indoor trompe l'oeil (illusionistic painting).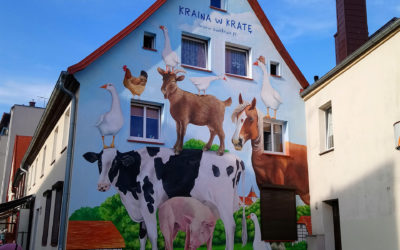 Setki zadowolonych klientów
competitive prices (we're from Poland!)
Najwyższa jakość usług w możliwie niskich cenach
reliability and experience
We operate since 2005 and we painted already hundreds of walls! Thanks to our extensive experience, we know how to handle each challenge and get the best result. Many of our murals are permanently inscribed in the landscape of cities throughout Poland and dozens of private owners enjoy their home murals every day. Join the ranks of our satisfied customers!
Contact us. We will present you the initial projects of the paintings free of charge and you will find that your walls can be really beautiful.
Here are some of our wall paintings (murals) that are publicly available: